ジュリアン先生より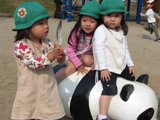 Today we went to Kaizezan Park with all groups.
Toddlers spent most of the time in the slides and the sand pit! I was surprised that they were not afraid to ride on their own.
Rompers and Kinders played most of the time un the jungle gym, the tall slide, the swings and some of them just kept running and running!
They had a wounderful time. When I said "It's time to go!", everyone replied "No! not yet!" jajaj.
In the afternoon we played what's the time Mr. Wolf.
ジュリアン先生より
Today we went to Hayama Park and played really fun games!
They loved one named "Pirates and balls". To play this game we choosed two kids to be the pirates and dived the rest of the group in two and pick his captain.
Only the pirates can use balls and their team mates are their boats so they have to dodge the balls to not sink!
The pirate who sinks all of his oponents boats wins!
They loved this game and had a lot of fun! R.I. and U.Y. wanted to be the pirates most of the time!
ジュリアン先生より
Today we did a vegetable soup roleplay with Lynette were the kids had to
add an ingredient to a soup we pretend to make.
As the first students adds the first engredient the second says the first one end his, the third student the first, second and his, the third, and so on; it's kind of a memory game.
Kinders did an outstanding job and most Rompers achieved the goals!
It was great!!
ジュリアン先生より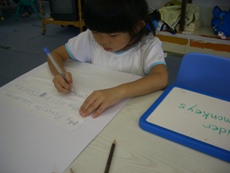 Today we focused with Rompers and Kinders in the theme of ZOO ANIMALS!
We read two stories, zoo animal flash cards, games and songs!
We want to be ready for next Friday.
Kids enjoyed making a drawing of their favorite zoo animals today and for homework they will research for what they eat and the place they live!
ジュリアン先生より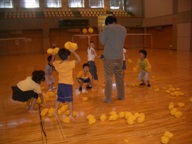 was our final practice for sports day at the gym.
Kinders, Rompers and Toddlers did an outstanding job! we practice from the begining to the end, also, Kinders have memorized all theirs lines and are ready for Sunday!
We will practice tug of war and relay race at school so kids get more used to it.
Everyone seems very exited!
ジュリアン先生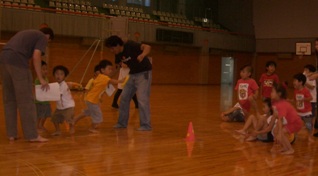 Today we left school very early!It was our second sports' day practice.
Kids were very cooperative and did a great job! They practiced very hard.
Jeana gave the kids a cookie for milk time, everybody enjoyed them!
We practiced most of the events, all our students responded greatly. Our next and last practice day at the gym is Wednesday, September 24th.
All teachers expect an even better performance!
ジュリアン先生より
Today Kinders studied fruits and vegetables and as I asked questions kids
responded quickly in a susprising way.
At table time we did a worksheet were students had the task to find differences between both food groups, I was impressed in how fast and acertive they acomplished the goals!
R.I. also, did a wounderful drawing of an apple and a corn!
ジュリアン先生より
Today we reviewed basic shapes an concentrated in tracing circles and
triangles.
It was interesting to notice how K.U. couldn't trace a triangle, but after practicing and sequencing circle and triangles he improved.
Next time we will trace squeares and rectangles!
They have also memorized numbers 1-10 and basic colors.
ジュリアン先生より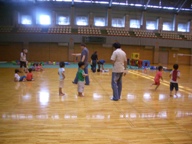 Today was our first practice at the gym for sports day!
we left school after milk time and we headed on the school's bus to the Culture Park Gym.
At the begining children were suprised of the size of so we let them get use to it for a while.
They did a very good job during practice to be the first time! we expect to improve more next tiem!
ジュリアン先生より
Children made a bueautiful craft for Mother's Day, everyone seemed very happy during the activity.
After the craft, a violin concert was held at Y's Preschool.
Mr. Satoshi Inoue played cheerfully for the children and would play the violin as many of them requested some songs like Doraemon, Tonari no Tototo, etc.
Students behavior was outstanding and everyone had a wounderfull time and all through English!