Recipe for 7-5-3 Candy / Song "The Leaves on the Trees": November 13, 2008
2008年 11月 13日
ジーナ先生より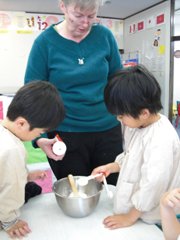 We had a great day today.
K.U. was our meeting manager this morning and surprised us all when he could read all the names of the other Helpers today without any help at all.
B.J. did a great job as the Weather Helper today, too. After morning circle, the Rompers and Kinders had Show and Tell. W.D. and K.F. showed us their special treasures. They did a great job.
After milk and recess, at Table #1 the Rompers made 7-5-3 Candy with Ms. Jeana while the Kinders had a Science Class with Ms. Lynette about "Bats".
Kinders learned about "Echolocation" today and played an echolocation game. They also did a Venn Diagram comparing Bats and Birds.
During Table #2, the Kinders made candy while the Rompers went out to play on the playground. And after lunch, the Kinders got to go outside while the Rompers had science with Ms. Lynette.
Both groups did a great job making candy. They were patient and waited turns very well today.
And they did a good job rolling out the dough to make the special candy. Thanks, Ms. Kimie, for the yummy recipe.
For those of you who want to try it at home
Mix together in a bowl:
4 Tablespoons of Pd. Sugar
4 Tablespoons of Creamy Powder
2 Tablespoons of Condensed Milk
Mix with a spoon til thick and crumbly, then mix it with your hands til it is like clay. Then roll it out into sticks. Add more creamy powder if it is too sticky.
Leave to dry overnight. You can also add 2 teaspoons of chocolate milk mix (or cocoa) if you want to make chocolate flavor.
The kids have been enjoying singing the "Five Green and Speckled Frogs" song that Ms. Lynette brought into school. And we have been trying to learn "Sammy's Song".
We are also singing *The Leaves on the Trees* (same tune as "Wheels on the Bus")
1. The leaves on the trees are yellow and brown.
2. The leaves on the trees are falling down.
3. The leaves on the trees make a crunching sound.
4. Rake all the leaves into a mound.
5. The children of the town jump up and down.
They also enjoyed picking leaves this week. Tomorrow we are going to make leaf rubbings. Last week we played in the leaves (and made a terrible mess) but it was fun. We hope we have time to do it again this week.
And Ms. Jeana has been sharing her Halloween Candy Corn and Pumpkins with the kids at closing circle time. Most of them liked it. It is traditional in the US at Halloween and Thanksgiving.
For stories this week, we read: KIDS, The Mixed up Chameleon, Sammy's Song, Alexander and the Dragon, and the Emperor's New Clothes.