JOKES IN ENGLISH!: November 6, 2008
2008年 11月 06日
ジーナ先生より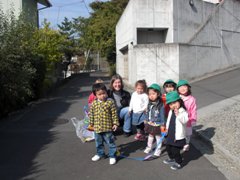 The Kinders had hiragana class while the Rompers and Toddlers had morning circle.
The Rompers and Toddlers enjoyed singing *Hurry Hurry Drive the Fire Truck* and *Row Your Boat* and *Knickerbocker*. We are also learning a new song *The Leaves in the Trees* and *There Are Seven Days*.
After play time, we finished our November calendars - writing numbers from 1 to 30, and then we drew a picture of what was the funnest thing about the Halloween Party.
The kids drew some great pictures, and Ms. Lynette and Ms. Kimie translated.
Which reminds me, on Wenesday in morning meeting when we were talking with the Rompers and Kinders about the Halloween party - the Kinders actually made the funniest joke IN ENGLISH.
I asked if they had received LOTS of candy, and someone said "Yes, 100", so another kid piped in "150" and another kids piped up "200", and so on... "1000" and "10,000" even "a million", at which point one of the Kinders piped up *A W......* making fun of her friend W.D.'s name.
I said *Good joke* and we all laughed. Then someone popped up with *A Julian* (making the connection to the name of another teacher). Very good jokes, don't you think? These kids AMAZE me with their comprehension of our raw English at regular speed, but also because they can make JOKES IN ENGLISH! How cool is that?
After calendar it was time for lunch, so we ate, then we finished early so we could work on shopping day crafts. We made two kinds of *Spaghetti* and also a LOT of clay beads that we will use for necklaces later.
Before we went home, we went out on the playground for 30 minutes. The boys played soccer, while some younger kids played with balls or hula hoops. And we all played Boy, Girl, Bear just before we went home. (like Duck, Duck, Goose). The kids really enjoyed it.