Are you ready for Halloween?: October 30, 2008
2008年 10月 30日
ジーナ先生より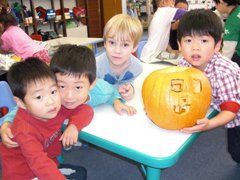 The kids were pretty excited today, as it was the day before the BIG Halloween Party.
This morning in circle we sang "Fly Little Bat", and "Spooky Loo", and did "the Five Little Ghosts" finger play.
Then we listened to a Halloween Story - "Big Pumpkin" - and practiced our choral reading of the story. The kids enjoy acting out the various characters in the story, and pretending to eat the pumpkin pie at the end of the story.
After morning circle, the Rompers and Kinders worked on their Trick or Treat baskets while the Toddlers went outside for a walk.
While we were making the baskets, we also shook a container of cream to make butter. We ate the butter at lunch on crackers - it was creamy and delicious!
Some of the kids also finished writing their sentence strips from the Zoo Field Trip report, or worked on their Fly Little Bat Books. And some of the kids worked on a Spooky Halloween Painting - they used white crayon and other colors on white paper, and then washed over the crayon with black paint and watched the ghosts and skeletons mysteriously appear on the page! They made some really beautiful pictures to decorate the walls for the party.
After lunch, we tidied up the classroom and our cubbies before the party. We had many, many papers and projects to take home, as well as library books, so we got organized and then we had a story "NO DAVID!" and "HALLOWEEN PIE"!