Hare, Tokidoki Buta!: October 23, 2008
2008年 10月 23日
ジーナ先生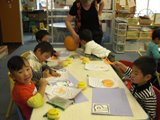 We took turns acting out the "Five Little Ghosts" fingerplay this morning in circle time. And then we sang "Spooky Loo", and sang "Halloween is Almost Here".
Then we had morning meeting. Y.S. was our morning meeting manager today, and he did a fine job. The kids have gotten better about sitting and listening to their friends and taking turns speaking (but they could still do better, I think). Then U.Y. did the weather. According to U.Y., tomorrow it is going to rain *Spiders*! Yuck!
By the way, the Kinders began a new chapter book this week. Now we are reading "Hare, Tokidoki Buta!" Do you know this book? It is a very popular children's book in the US. In English it is called *Today is Pig Day*. The kids are very interested in finding out what will happen next in the story.
We read a few chapters on Mondays, Tuesdays and Fridays only, and so far they seem to enjoy this book as much as they enjoyed "Professor Poopy Pants". Y's purchased a copy of the book in Japanese for our library.
Unfortunately, the book is out of print in English, so we had to borrow one from the Miharu Library. The story about the magical shrine bulletin board is very interesting to the kids, I think. We will be visiting a shrine and temple next month, to learn some of the vocabulary about these two major symbols of Japan in English. I hope the kids will enjoy the book and learn more about Japan, too.
After the meeting, H.K. had Show and Tell. He showed us his remote controlled racing car, and a Lego car he had built. They were both very cool. Since everyone wanted to have a chance to drive, after milk time, we broke into 3 groups and took turns A) Writing birthday cards for the birthday party tomorrow OR B) watching the "Wheels on the Bus" and "Dem Bones" story/song video OR C) driving the remote control car.
The kids rotated through all three centers in 20 minute rotations, so everyone had time to do everything. While we worked, we sang Chicka Chicka Boom Boom, Willaby Wallaby Woo, Have you been to...?
At table time, the Toddler 2's did a spider craft with Tim and Carol, while the Toddlers 1's had a short free play time and then a story from the Japanese staff.
After lunch, we played freely for about 30 minutes, then we got together and played *Whale, Whale, Shark* before we went to the tables to do our Letter P Craft Worksheets. We Colored a pumpkin and make a jack o lantern face.
After that, we had a SCAREY*Dark Woods story and talked about the schedule for field trips next week before we packed up to go home.