ANIMAL MASK BOOK/GAME: October 9, 2008
2008年 10月 09日
ジーナ先生より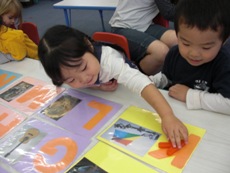 Well, the CD player wasn't working this morning, so we sang only a couple of group songs, and then broke up for story time.
Lynette took the Rompers, Carol took the Kinders, Tim took the Toddler 2's and Jeana took the Toddler 1's for a story.
The Kinders heard the TRUE STORY OF THE THREE LITTLE PIGS - which is a story about POINT OF VIEW.
The Kinders will be talking about different points of view in fairy tales the rest of this school year, and this was our first book on the topic.
The Rompers read two Halloween REBUS books, and the Toddlers read GO AWAY MONSTER. Mommies, if you are looking to buy a great book for your kid - this is the one to buy! The kids love this story and it is easy and fun to read!
Jeana did an ANIMAL MASK BOOK/GAME with the littlest kids. It goes like this...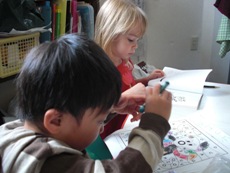 "Mr. Bear, Mr. Bear How are you today? I'm so Happy! Happy, Happy, Happy! See me smile!
Mr. Mouse, Mr. Mouse. How are you today? I'm so Sad! Sad, Sad, Sad! See me cry!
Etc. etc.
After story time, we had snack and milk. Then the Rompers and Kinders had SHARING TIME. Usually sharing time (show and tell) is on Friday, but because we are going to the ZOO Friday, we had sharing time early this week.
A.S. showed us her cool keitai! She did a great job. And then the kids all took turns telling what their favorite treasure is. We discussed how a "treasure" doesn't have to be a toy - it could be something else like a book or stickers. A tough concept for some of the kids.
After that, we went on a NATURE WALK to the SESERAGI WALK. It was a beautiful warm day and we enjoyed looking for bugs and spiders and snails and SIGNS OF FALL. And the mosquitos enjoyed eating us, too.
The Toddler 2's joined us while the TOddler 1's played on the play yard.
After lunch we had library and played WHALE WHALE SHARK (Duck, duck, goose) and had a group Halloween Story.
We also talked about the ZOO and reviewed what to bring and behave on the field trip tomorrow.