Visiting the "Fukushi no Mori" Respite Care Center: September 11, 2008
2008年 09月 11日
ジーナ先生より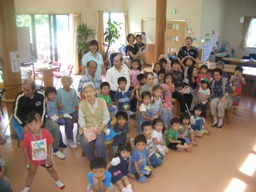 Today we visited the "Fukushi no Mori" Respite Care Center in Nishida.
R.I. and H.I.'s parents run this center, and were kind enough to invite us to visit in July to pick potatoes.
We went today to sing songs and play games with the Seniors because Monday is "Respect for Seniors Day" in Japan.
We had milk first thing in the morning, then loaded up on the bus to go to Nishida (about 20 minutes away).
On the bus, the kids enjoyed singing "Baby Beluga" over and over and over again. We also learned the "Shake the Sillies Out Song" and "Willaby Wallaby".
When we arrived in the center, the kids sang "Mr. Sun" and "Green Grass Grows". Then we sang "Akatonbo", "Momiji", and "Musunde Hiraite" in Japanese.
Following that, we played a Kotowaza game. The kids received a nice medal and bag of cookies from the Seniors.
The kids made a beautiful "Sun Catcher" from tissue paper for each of the Seniors. After the gift exchange it was time to go home.
The children were soooooo good today, that I bought them Ice Cream treats for after lunch. (And they sang so beautifully on the bus that they made me cry from happiness...but that's another story.)
We were very proud of them today!
After lunch, they played and played. The kinders practiced jumping rope and bouncing balls for the Sports Day show. And the Rompers colored and had story time.
At story time, we read BABY BELUGA and sang Mr. Knickerbocker, then it was time to go home!