Singing the first verse of "Baby Beluga" almost perfectly: September 8, 2008
2008年 09月 08日
ティム先生より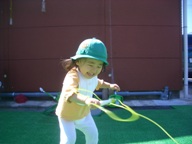 Today the Toddlers enjoyed morning song-time with songs such as " The Green Grass" and "Aiken Drum" and then they went to their room and they had a story called "Run Two Dogs, Run" and then sang the weather song.
One memorable moment was when H.W. and M.S. started singing the first verse of "Baby Beluga" almost perfectly with clear pronounciation. M.S. will often burst out with many different tunes in English throughout the day.
Next was snack time and then the kids all sat down and listened to a story called "Goldilocks and the Three Bears" and then I read a book that explains the foods that animals produce.
I asked questions like "Which animal does cheese come from?" and "Where does yogurt come from? A.M. was able to answer these questions along with some of the other older Toddlers.
Next the Toddlers went outside and played while the Rompers and the Kinders practiced for sports day inside. After lunch the Toddlers had freeplay time and then sat down with me at the table and did some puzzles.
After this they had a story called "Caillou" about a child which goes to Day care centre and then sang the goodbye tune.