Hey Mr. Knickerbocker, Boppity Bop!: September 4, 2008
2008年 09月 04日
ジーナ先生より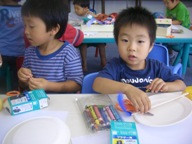 In song time, the kids were quite rowdy today, but we did a new finger play / game called "Mr. Knickerbocker".
"Hey Mr. Knickerbocker, Boppity Bop.
I like a the way that you boppity bop with your..... (mouth, hands, knees, etc...)"
Once the kids have got the rhythm and rhyme, we will do a circle game with it.
Y.S. was our Morning Meeting leader today, and U.Y. did the weather.
The kids are getting quite good at reading the schedule and eachother's names, and have memorized the weather report script quite well.
However, they are not sitting and listening well at all this week.
We had to have a little talk about proper sitting and proper listening behavior in group time......
For morning story, the Rompers and Kinders had a group read of "JESSIE, DINNER IS READY!", but by the time we finished the story and meeting and milk, it was already after 10:20 so we didn't have play time today - instead we had a sitting and thinking time.
We are asking the kids to be quiet THE FIRST TIME we ask them to be quiet, and to listen to instructions without interupting.
At this age they should be able to sit quietly and listen for 1 or 2 minutes........ but........
Anyway, after we reminded them and had a little thinking time, they were MUCH better behaved the rest of the day.
After milk, we did our M worksheets. Rompers did Monkeys, and S.S. wrote his name by himself for the very first time.....
The kinders worked with Lynette on their M Vocabulary Sheets and then everyone worked on individual areas. T.E. and K.U. and H.I. also worked on their name writing with the white boards.
U.Y. wrote numbers 100 to 120 (I was impressed), and R.I. and H.K. practiced addition on the board by themselves. R.I. and H.K. also worked on short vowel spelling families.
Y.S.'s writing has really improved these days. K.F. did a beautiful job on his M's today, too. The boys like to draw and read as much as anything.....
After lunch, we let the kids have some FREE ARTS and CRAFTS time. We also started learning the "Pokemon Theme Song" in English. I have always liked that song since my son, Kevin, was four years old and we sang it together on the way to school everyday for months.
The lyrics sheets are available. Kinders will sing this song at the Sports Day during their special performance.
A pretty good day.