Craft Time with Some Older Toddlers: September 1, 2008
2008年 09月 01日
ティム先生より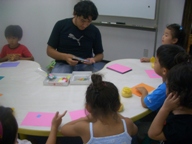 Today started off with some great favorites in song time, for example, "We're dancing with wags the dog" and "Jelly in a Bowl".
Next in Toddler time we counted from 1 to 20 and then we sang the ABC song and then reviewed shapes and studied "M" vocabulary, before enjoying the story "Wheres Spot?".
After snacktime we sang a fingerplay called "Where is Thumbkin?" and then had the story "The Three Little Pigs". Next I helped with practicing with the Kinders and the Rompers for sports day while Lynette read a story to the Toddlers.
We had lunch and then I helped M.S., Y.K. and R.O. make a fish in craft time, actually I spoke to and showed them how to do the craft and they could follow the instructions very well and were able to do it with minimal supervision.
This is important to me for the fact that they are able to experience having control over the craft without much teacher assistance, and they can develop their creativity in the classroom.
Next I read some stories to the kids, one of them being "Yo,Yes!" which in my opinion is the most popular and enjoyable book for kids because it is fun and interactive and they always say "Thats a fun book!" and "Once more please!"
Next I did some fingerplays with them "Round and Round the garden" and "This little piggy went to market" which they absolutely adore. So that was the end of an enjoyable day at school.