Fun day at the Space Park!: Jyly 29, 2008
2008年 07月 29日
ジーナ先生より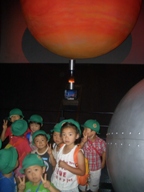 Morning circle - weather report by A.S. Following by morning meeting.
After milk, the Rompers and Kinders went on a field trip to the Big-I 'Space Park' - home of the world's highest planetarium.
We rode the bus to the Big-I - where we discovered that T.S. is afraid of the noisy (and dark) elevators! So, Jeana and a staff member rode the regular elevator with T.S., while the rest of the group rode the exciting elevator to the 22nd floor to the museum.
In the lobby we saw a 'Hologram' of the planet MERCURY! The little kids had some trouble seeing the hologram, but the big kids really enjoyed trying to touch the image. 'How do they do it?'
Next we entered the space park museum where we saw the large model of the planets. The kids recognized all the planets and the sun from our studies this month. They were excited to see the model and compare the sizes of the planets.
On the 21st Floor, we enjoyed viewing the model of the new space station lab 'Kibou' and seeing the space station toilet! U.Y. and K.H. got to drive the rover robot.
The Rompers had to go home soon after that, while the Kinders stayed and we explored the exhibits about the Big Bang, the Galaxies, and the Planets. We took turns using the computer to call up images of the planets. Then it was lunch time, so we went upstairs to lunch.
After lunch the Kinders and Jeana saw a planetarium show about the Solar System. The kids were able to answer MOST of the quiz questions correctly, and the staff was very impressed when the kids sang the PLANETS RAP song while they were waiting to go into the show.
It was cool to see the planets, constellations, asteroid belt, and sun just like we have been studying this month.
Very COOL!
Then it was time to go home. What a fun day at the Space Park!