"Aiken Drum" Japanese version: July 17, 2008
2008年 07月 17日
ジーナ先生より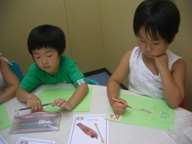 In morning circle we sang Mr. Sun, Head and Shoulders (Wiggles), and Hurry Hurry Drive the Firetruck.
We also sang "Aiken Drum" and then we collaborated on a Japanese version.
We gave the mommies the lyrics to the original version last week, I think. If you remember, Aiken Drum is the man who lives in the moon, and he has hair made of spaghetti, ears made of meatballs, nose made of cheese, mouth made of pizza, etc. Below is our new Japanese version:
There was a man lived in Japan, and his name was Taro Hashimoto.
His hair was made of ramen.
His eyes were made of dango.
His nose was made of kamaboko.
His mouth was made of a banana.
His ears were made of tomatoes.
And he played upon a drum.
We've also been trying to get the kids to learn to SPELL their names outloud by singing,
There was a man who had a friend, and K***** was his name-oh!
K-*-*-*-*-* (repeat 3x)
and K***** was his name-oh!.
You can do this with any name, of course. It helps the kids recognize their letters And remember the spelling of their name.
Our Weather Reporter today was K.F., and he did a fine job. "Tomorrow it will rain candy."
And before Morning Meeting, T.S. surprised me by reading the board ALL BY HIMSELF - he could read that HE was the milk helper today!
Later, H.I. finally mastered the difference between R and K. He had a tendency to write his name as H***R* - but today he finally GOT *K* right!
I am very proud of him.
After milk and play, the Rompers did a Letter K worksheet/craft, and also stamped a cover for their worksheets to date which will go home with them before summer vacation. Then we walked to the playground near the school and played ball and practiced hanging like monkeys from the bars.
After lunch we finished our J and K workbook pages and/or the Rompers traced some constellations. Tomorrow is our campout with the Kinders. They are looking forward to it.