"Which key ring does the red key go on?": April 28, 2008
2008年 04月 28日
ティム先生より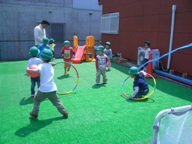 This morning started with song time and the kids enjoyed the song "I'm gonna sit and clap my hands" and also "fruit Salad" by the Wiggles.
R.O. loves to sing and dance and was really getting into the swing of things this morning!
Later in Toddler time the Toddlers enjoyed some Fingerplays "Round and Round the garden" and "Five Little Fishies" and the story "The Three little pigs" and also the story "Fuzzy Little ducklings" which involves touching different textures, counting and also colour, animal and shape recognition.
Next was learning colours and the Toddlers were each given a key ring and they had to ask for a coloured key, For example "Yellow key please" or another colour.
Next was a colour sorting exercise. There were five key rings with 5 different colours on each one and I asked for example "which key ring does the red key go on?" Does it go on the yellow key ring to try to ellicit a response from them. Soon A.M. and Y.K. got the hang of it and could understand the concept behind it.
After lunch the Toddlers had fun playing in the playground outside practicing their motor skills, jumping, running, throwing and catching before returning inside and then listening to a story called "Where are you going?" before going home.