Koinobori Song: April 24, 2008
2008年 04月 24日
ジーナ先生より
Today in morning circle we enjoyed playing a new version of Head and Shoulders.
After Songs, the Rompers and Kinders learned the Koinobori Song*1 (in English).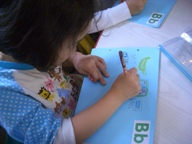 Then we looked at their seedlings and watered their little plants. We talked about the parts of plants and looked at the roots. The kids were quite amazed to see that the seeds had already grown into small plants.
Koinobori Song (English lyrics by Jeana Schieffer, copyright 2008)*1
Higher than the roof flying, Koinobori.
The big black one's the father, See him flying there.
The little one's are children. Don't they swim well, too?
Swimming Happily, Koinobori.
After circle time the Rompers made a beautiful painted butterfly for our Letter B worksheets with Jeana, while the Kinders made a B Picture Dictionary page with Miss Lynette.
The Rompers 1 also practiced writing the letters in their names.
From 11, Tim and Lynette played games with the Kinders and Rompers, while Jeana visited with the Toddlers. The Toddlers sang the Koinobori Song in English and Japanese, and Old McDonald, and then read stories.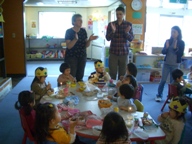 After lunch, all the kids had Japanese Languages Arts class with Yuko and Lynette and Tim. We talked about Children's Day and Koinobori.
Tomorrow the kids will make a Koinobori craft.
It was a great day!