Played with the foam alphabet letters: April 14, 2008
2008年 04月 14日
ティム先生より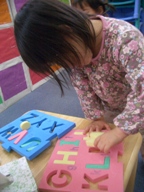 This morning started off with some songs, for example, "I love you" and "Reach for the sky".
Then it was onto the morning routine and then the toddlers did some more songs like " The Rainbow song" and "Who is wearing green today?" and then had a story called "The Zoo story".
The toddlers then enjoyed some milk and crackers and then it was onto Learning the alphabet and looking at some alphabet flashcards and then they played with the foam alphabet letters to see if they could find the corresponding shape for the letter to fit in.
N.I. was fascinated by this task and did a great job completing it!
After this the toddlers went outside and did some stretches and played with the balls until it was lunchtime.
Next the kids enjoyed some freeplay time and then played with the plastic fruit to try and learn some of the vocabulary in English.
They then had a story called "No Hitting" before packing up and enjoyed an Easter jokes book that was read to them.