Painting for Easter eggs: April 10, 2008
2008年 04月 10日
ジーナ先生より

The kids are getting accustomed to the new routine and new arrangement of the space, and the big kids (Rompers and Kinders) were a great help today with all the Toddlers at Opening Circle Time.
We did the "Peel Bananas" rhyme and introduced some of the new Toddlers and Rompers to the class, so that everyone would know their names.
Then we enjoyed playing "Here We Go Round the Mulberry Bush" in small circles. The big kids were so kind and careful to the little kids, and Tim and I were very proud of them.
In Toddler circle, Yuko and Tim did some Japanese and English fingerplays.
In Rompers and Kinders circle, we played a magnet board game of "Easter, What do you see?", and then played "What's missing?".
The class must have been fun, because when I asked K.U. to come back to "class", U.Y. said, "this isn't a class, it's a game!" And when I told him that the game was our class, he looked amazed!
We also had the returning students explain to the new student the rules for GROUP time:
During group time, we
a) listen to the teacher,
b) raise our hand to talk,
C) take turns,
and d) don't run around the room.
New students mean more chaos, but the whole group is handling the situation well and helping the new kids understand our daily routines and how we move from class to class. They are doing such a great job!
After circle the Rompers and Kinders looked at books and/or played alphabet games in turns.
Then we watched 15 minutes of Barney at the Beach while the teachers set up for a craft.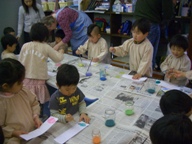 The kids enjoyed painting for Easter eggs - mixing the paints and watching the colors run together, blowing on the paints or holding the papers so the paints run together, etc.
Tomorrow we will weave paper baskets and use the eggs and basket for our April calendars.
The Toddlers got to color a big Easter Egg.
After craft time, we had more free play time. Since it was raining, we couldn't go outside, but we did some tumbling instead.
The kids were VERY impressed to discover that K.H. can do a cartwheel and N.S. is determined to learn how to do one.
A.S., R.I., U.Y., H.K., K.F., T.S., Y.S., B.J., S.S., N.S., and H.W. all tried to "stand on their heads" against the wall. The girls decided they need to do push-ups everyday so that they can build stronger arms for head-stands and cartwheels.
After lunch some of the kids played "Egg Hunt" with Tim, while some of the kids read stories in the Toddler area with Jeana. It was a great day.